WORKING IN CONCERT
A performing arts alliance of collaborative projects celebrating songs and stories, up close and personal
February 2019: This webpage is a temporary stopping place as we develop our new Working in Concert website. Come back for more updates as we grow.
Our CALENDAR and SIGNUP are below!
---
Our vision:
The power of song. Face-to-face stories. Transforming experiences.
Our mission:
Working in Concert invites the collaboration of established and aspiring artists to make opera, musical theatre and cabaret accessible and personal. We engage, entertain and inspire audiences to explore together the human condition—in intimate spaces—with compassion, character and guts.
---
Three tent-poles:
1. PERFORMANCE: Up close and personal.
Drawing from the vast repertoire of opera, classical song, musical theatre, theatre and cabaret.
2. ADVOCACY: Advance the art of cabaret and classical vocal arts.
Promote collaboration with producers and organizations to reach new audiences.
Serve as a catalyst for the development and financial sustainability of performance venues that feature intimate performance.
3. EDUCATION: Stir interest among people of all ages to express themselves in the musical and theatrical fields of cabaret, opera and related arts.
Further the development of artists who aspire to make a profession or avocation of these arts.

---
Three stages to begin:
---
Upcoming Events
Saturday, FEBRUARY 16 at 7:30 PM: SongShop offers a Valentine Potpourri. Details at songshoplive.com/events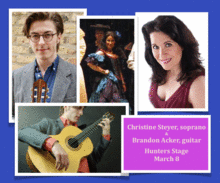 Friday, MARCH 8 at 8 PM: Christine Steyer celebrates Love, Loss, Resilience for International Women's Day. Details at BrownPaperTickets
Sunday, APRIL 14: Soirée in River Forest to raise funds for the Bellissima opera Future Perfect
Sunday, MAY 5: SongShop's annual gala is "Over the Sun and the Moon".
Saturday, MAY 11: Concert celebrating the Chicago Paris Connexion, with Christine Steyer and Jean-Claude Orfali. PianoForte Chicago.
SEPTEMBER 12-22, 2019: Chicago Paris Cabaret Connexion goes on a "Tour de France". Registration is now open: www.cabaretconnexion.org/program_join.php
---
Two Artistic Directors:
To receive our newsletters, please enter your information below.
---

Please note, Gmail users may find our newsletters in the incoming Promotions folder.

Our newsletters are generated by MadMimi or Constant Contact and you may unsubscribe at any time.