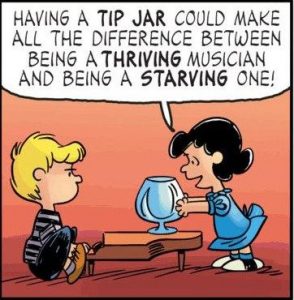 Fee-free payments can be made via Zelle to 773-450-8599 or clobert@sbcglobal.net
or Venmo to
@Claudia-Hommel.
Be sure to get your funds to the right place by confirming the recipient and your purpose such as "SongShop concert" or "Opera project".
See other payment methods below.
The biggest component of our 2020 fundraising campaign is to meet the $65,000 budget for our June 2021 premieres of FUTURE PERFECT and ON CALL. As of July 2020, we've raised $24,500 in direct pledges and payments for the operas.
Donor CB writes: A good cause. My heart easily melts when children's growth is concerned… If each one of us can only give $1000, even if 'we cannot afford,' then the goal is reached. Let's think BIG!
Deneen, hearing Christine Steyer's performance of the new aria "Red Is a Trick", searched us out in order to send a generous check and wrote: I left Saturday with such a happy heart after hearing you sing! …Phenomenal!!!!
The text of "Red" comes directly from young people responding to gun violence in their neighborhoods. Be inspired when you hear it here.
---
Mail your check to:
Working in Concert
PO Box 259327
Chicago IL 60625
*Please include your email address and/or phone number.
OR donate online by using our secure PayPal button to pay by credit card or checking account.
When you shop at Amazon Smile, elect Bellissima Opera/Working In Concert as your preferred charity and we receive 0.5% of your shopping bill on your completed purchase at Amazon Smile.
---
When you make a financial contribution payable to Working in Concert, you may earmark it to any or all projects of your choice:
Bellissima Opera's Future Perfect
Chicago Paris Cabaret Connexion
SongShop Live Scholarship Fund
Cabaret and Opera in the Classroom
Contributions for the 2021-2022 Chicago Cabaret Week events should be made to Chicago Cabaret Professionals at www.chicagocabaret.org.
---